Hours and Directions to PANDORA at the Saint Louis Galleria
Store Hours
| | |
| --- | --- |
| Sunday: | 11:00 AM - 6:00 PM |
| Monday: | 10:00 AM - 9:00 PM |
| Tuesday: | 10:00 AM - 9:00 PM |
| Wednesday: | 10:00 AM - 9:00 PM |
| Thursday: | 10:00 AM - 9:00 PM |
| Friday: | 10:00 AM - 9:00 PM |
| Saturday: | 10:00 AM - 9:00 PM |
Special Holiday Hours
| | |
| --- | --- |
| Thanksgiving Day: | CLOSED |
| Black Friday | 6:00 AM - 9:00 PM |
All times are Central Standard Time. Special hours may apply during holidays. PANDORA Saint Louis Galleria is closed on Thanksgiving and Christmas.
The Complete PANDORA Collection
At this exclusive PANDORA Jewelry store, also known as a Concept or Flagship Store, you will find the complete collection of sterling silver, murano glass and 14K gold charms.
In addition we carry the PANDORA Create and Combine earring collection, plus matching Ring, Necklace and Stand-alone Earring pieces to complement your PANDORA bracelet.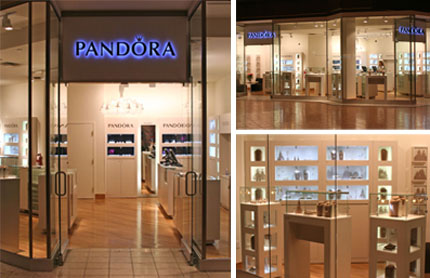 Our PANDORA Store Location
Our PANDORA store is located in the Saint Louis Galleria, which offers a wide of variety of shopping, recreation and dining options, providing a complete entertainment experience.
Our store is near the large water fountains in the Garden Atrium on the First Level, by the Saint Louis Bread Company and NORDSTROM. Visit the Galleria web site for a detailed map for our exact mall location in Zone E on Level 1.
Please call us at 1-877-242-1706 or send us a message if you need any additional information.
Directions to the Saint Louis Galleria
PANDORA Saint Louis is most convenient to enter the Mall through any entrance near Macy's, or the entrance next to the Saint Louis Bread Company across from the Cheesecake Factory.